Update
Greetings Pray Team,
I hope all is well with you. I hope you had an enjoyable and regenerative summer. I have been reading and studying Isaiah this month. In chapter 37, he writes about the prayers of King Hezekiah.
2 Kings 19:14-19 "Hezekiah received the letter from the hand of the messengers and read it; and Hezekiah went up to the house of the Lord and spread it before the Lord. And Hezekiah prayed before the Lord and said: "O Lord, the God of Israel, enthroned above the cherubim, you are the God, you alone, of all the kingdoms of the earth; you have made heaven and earth. Incline your ear, O Lord, and hear; open your eyes, O Lord, and see; and hear the words of Sennacherib, which he has sent to mock the living God. Truly, O Lord, the kings of Assyria have laid waste the nations and their lands and have cast their gods into the fire, for they were not gods, but the work of men's hands, wood and stone. Therefore they were destroyed. So now, O Lord our God, save us, please, from his hand, that all the kingdoms of the earth may know that you, O Lord, are God alone.""
Here is commentary by David Guzik (Enduring Word) on this prayer:
You are God, You alone: God is a simple title for our LORD, but perhaps the most powerful. If He is God, then what can He not do? If He is God, then what is beyond His control? Hezekiah realizes the most fundamental fact of all theology: God is God, and we are not! God is God, and Rabshakeh or the Assyrians are not!
I like the phrase 'then what can He not do?' Some of the requested prayers on this letter seem very big to us. But let's keep Guzik's comments in mind. For further reading on Hezekiah's prayer see:
https://endofthematter.com/2016/11/king-hezekiahs-prayer-2-kings-19-14-19/
We have had a summer of supporting our partners with equipment and funds to continue to help provide clean water. Here are some events and requests for this fall. If you or somebody you know would like to participate in praying, golfing, volunteering at golf event or walking in the Fall Water Walk, I have put in links to help you.
---
GOLF
We are organizing a GTA North golf tournament for September 28 at the Silver Lakes Golf and Country Club. You may recall that last year's event was cancelled by the hosting course due to impending weather.
https://www.waterambassadorscanada.org/golf-for-water/
Please pray for good sponsorship, good numbers of golfers signing up and …..good weather.
---
FALL WATER WALK
You have heard me say that women and children walk miles to get drinking water. A bucket of water weighs 50 pounds (22 kg). The average distance they walk to the water source is 4 miles (6 km).
To help raise awareness and funds we ask people to sign up, form a team, get sponsors and sometime in October, walk the same distance carrying an (empty) bucket. Please pray for good participation across Canada, good awareness and generous donations for clean water: https://www.waterambassadorscanada.org/walk-for-water/
Here is a common scene you see in the countries we work with: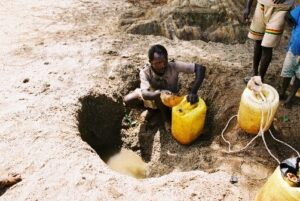 Here are Canadians raising money and awareness at their Fall Water Walk: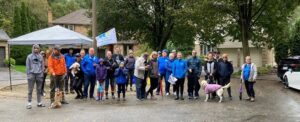 ---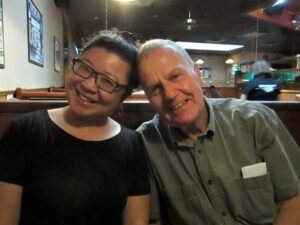 MAKING WAVES
We will have 2 more MAKING WAVES sessions in 2022. This is an online Zoom interview with our water family. We will interview Stephanie Wong (now Doctor Stephanie Wong, Ph.D.) on Thursday, October 13. Stephanie was so moved after she was on a Water Ambassadors Canada water team that she switched majors and become an expert on ground water.
Stephanie works in the US as a(n) hydrologist. This summer, she came back to Ottawa to visit her family. We had a chance to go out and reminisce over lunch.
Please pray for good numbers to sign up and learn about water, clear presentation by the speakers and also pray for good internet and Zoom connection.
---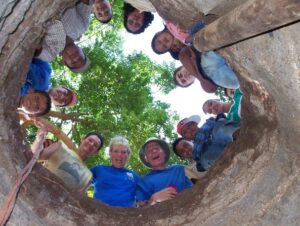 WATER TEAMS
Jeff Merriman, our Field Director has asked us "Barry please include prayers for volunteer team trips that will resume in early 2023 – for wisdom and guidance in planning countries, dates, projects and the right match of volunteers with trips.
Please pray for wisdom for Brian, Ursula, Jeff and Alla as they consider reinstating teams.
---
Please Pray
When ever you are reminded of the need for clean water please continue to pray for:
Jaime Torres – Guatemala – well drilling and repair
Job Gamez – Honduras Well repair and water filters
Nicaragua news: Many of the countries we work in have corrupt political systems and essentials like water, sanitation, roads and power are in a poor state or non-existent.  Here is a short audio report about the latest persecution of the Catholic Church by the government in Nicaragua. https://www.breitbart.com/latin-america/2022/08/25/christian-persecution-worsens-communist-nicaragua-arrests-silencing-catholic-media/Sent
Rafael Alvarado – Honduras and Nicaragua -well drilling and repair
Jorge Alvarado – Nicaragua -well drilling and repair
Daniel and Helen Bravo – Colombia -chlorination systems for the Choco indigenous people
Dave Bettney-Colombia -water chlorination        
Our partners in Venezuela – chlorination systems, water filters and bleach makers
Rafael Afanador – Colombia – chlorination systems for the Jiw indigenous people Colombia
Gabriel Polanco – Dominican Republic – chlorination systems mostly in the prisons..
Arthur Prince Ssajjabi – Uganda – drinking water & hand wash stations, well drilling and repair 
Arthur has asked for extra prayer for funding for wells as there are areas of drought in Uganda. Also please pray for his church as it is the only church in the area and the land is up for sale.
Miguel Andres Moscoso – Ecuador – chlorination systems.
Philip/Nancy Wood – DR Congo – chlorination systems and water filters.
John Steinmann – Puerto Lempira, Honduras – chlorination systems  
Pastor Hamilton K Bleh –Monrovia, Liberia-water filters
Pastor Calvin Mochama – Kisii, Kenya- Please keep praying for the funding for this big project.
Lackson Chipeta in Zambia-well drilling.
Reminder to tell your praying friends about The Pray Team.
There is information under Get Involved on our website:
https://www.waterambassadorscanada.org/prayer-team/
Please continue to pray for wisdom and energy for our staff: Brian Johns, our CEO, Jeff Merriman our Field Director, Ursula Devolin, Teams and Events Coordinator and Alla Mizers, Office Coordinator.
Please also pray or our Board: Barry Hart (chair), Geri Rodman, George Budd, Gord Mount (treasurer), Robert Positano, Riley Moynes (vice chair), William Lam and Nick Di Palma.
Please keep George and Beth Budd in your prayers as they have ongoing health issues.
Thanks for praying for us!
Blessings,

Remember….. 
Contaminated drinking water is the biggest cause of death and disease in the world.  Yet it is the easiest global problem to fix.  Just provide clean water.