Update
Greetings Pray Team,
I hope all is well with you. We have made it to summer!  May we all enjoy the return to 'normal' and enjoy each others' company once again.
---
GOLF
Our 10th Annual Water Ambassadors Canada Golf classic was held on June 16 in Haliburton at the Pinestone Inn and Country Club. That week in Ontario saw wild weather.  There were storms, small tornadoes, hail and wind the day before.
After all the set-up work was completed, Ursula, our Event Coordinator, decided that it was a 'go'.  It was a beautiful day!  My brother tells a story of an outdoor baptism.  There were storms brewing all around.  The people there prayed for good weather for the service.  He says the weather at the baptism was clear while storms raged in the distance. There are Gospel accounts of Jesus calming the storm. I know many of you and the WAC team were praying for a successful day including good weather.
Thank you! Over $ 40,000 was raised for clean water projects as well as new people hearing about Water Ambassadors Canada.
---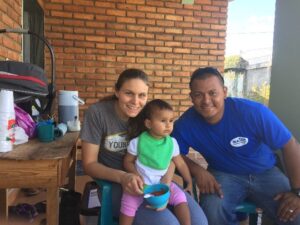 MAKING WAVES
Our online Zoom interview with Job Gamez from Honduras went well. I still am amazed how we can communicate (including seeing the person as they talk).  We had another on June 21 with Daniel and Helen Bravo reporting from Colombia.
There will be more MAKING WAVES dates in the fall.  Please pray that people register and become more  interested in hearing about water needs in other countries.  Also pray for steady computer links.
---
WATER TEAMS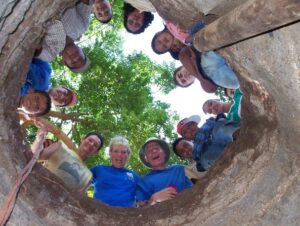 As soon as Covid was declared a pandemic we all shut down our work, school and social lives. This included all water teams too. Fortunately for Water Ambassadors, Field Director Jeff, managed to keep funding and equipment moving to our in-country partners. Water projects continued.  We are very thankful for that transition. (I do not want to use the term 'pivot' as it has been overused.)
Sending Canadians on Water Teams is a big part of who we are.  When Heather and I went on our first ever water team almost 20 years ago, it literally changed us.  We formed Water Ambassadors Canada as a direct result of seeing and experiencing helping to give clean water.
One of the reasons God has raised up short term missions, is to give the average Canadian a chance to serve in another country.  Jesus demonstrated this by his life, his actions and his words.
He told us to do the same. We want to move back into sending teams. Please pray for wisdom for Brian, Ursula, Jeff and Alla as they consider reinstating teams.
---
INTRODUCING…..
….our new partner Lackson Chipeta in Zambia.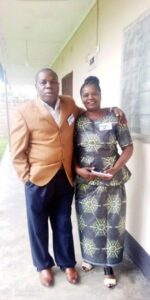 BRIEF BACKGROUND  (in his own words):
I am Lackson Chipeta aged 54 years old number 6 in the family of 10 one died. I am married with one wife by the name of Fainess. Theo Chipeta with 4 Children.1 boy and 3 girls also one adopted child who is working. My first born child is completing her University course doing Electrical engineering by the name of Taonga Lackson George, Second one is Temwanani George Chipeta doing Human Resource at the Same university with her elder sister. The third born is Riblar George Chipeta completed his high school with six points going to Russia end of the year to do Civil engineering.
BRIEF PROFILE OF SHILOH HANDS OF HOPE FOUNDATION:
Shiloh hands of hope is a faith based organization which was founded in 2012 December. Official Registration was done on the 25th February 2014. The vision and foundation was done by Rev.Lackson Chipeta with other community members in cooperated. Shiloh hands of hope has a board of 10 members 6 women and four men. It has also 6 Executive workers and 15 Volunteers who coordinate the work at community level. Shiloh hands of hope has 20 operation areas where community work is done. Shiloh hands of hope works with the Local government, Civic leaders at district level, traditional and leaders. We also work with the Ministry of Health, Ministry of Agriculture, Eastern water and Sewerage company and other non governmental organisations as stakeholders. Shiloh seats at several district committees such as water committee, gender committee etc.
We welcome Lackson and Fainess to our water family!
---
Please Pray
When ever you are reminded of the need for clean water please continue to pray for:
Jaime Torres – Guatemala – well drilling and repair
Job Gamez – Honduras Well repair
Rafael Alvarado – Honduras and Nicaragua -well drilling and repair
Jorge Alvarado – Nicaragua -well drilling and repair
Daniel and Helen Bravo – Colombia -chlorination systems for the Choco indigenous people
Dave Bettney-Colombia -water chlorination        
Our partners in  Venezuela – chlorination systems, filters and bleach makers
Rafael Afanador – Colombia – chlorination systems for the Jiw indigenous people Colombia
Gabriel Polanco – Dominican Republic – chlorination systems mostly in the prisons..
Arthur Prince Ssajjabi – Uganda – drinking water & hand wash stations, well drilling and repair
Miguel Andres Moscoso – Ecuador – chlorination systems.
Philip/Nancy Wood – DR Congo – chlorination systems and water filters.
John Steinmann – Puerto Lempira, Honduras – chlorination systems
Pastor Hamilton K Bleh –Monrovia, Liberia-water filters
Pastor Calvin Mochama – Kisii, Kenya- Please keep praying for the funding for this big project.
And also, Lackson Chipeta in Zambia
Reminder to tell your praying friends about The Pray Team.
There is information under Get Involved  on our website:
https://www.waterambassadorscanada.org/prayer-team/
Please continue to pray for wisdom and energy for our staff: Brian Johns, our CEO, Jeff Merriman our Field Director, Ursula Devolin, Teams and Events Coordinator and Alla Mizers, office coordinator.
Please also pray or our Board: Barry Hart (chair), Geri Rodman, George Budd, Gord Mount (treasurer), Robert Positano, Riley Moynes (vice chair), William Lam and Nick Di Palma.
Please keep George and Beth Budd in your prayers as they have health issues.
Also we acknowledge a celebrity among us! Dr. Riley Moynes' TEDx talk on The Four Phases of Retirement is going viral.  Well done!  https://youtu.be/DMHMOQ_054U
Thanks for praying for us!
Blessings,

Remember….. 
Contaminated drinking water is the biggest cause of death and disease in the world.  Yet it is the easiest global problem to fix.  Just provide clean water.