Update
Greetings Pray Team,
I hope you are all well.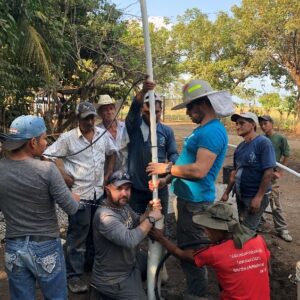 Water Teams are starting up again! Our first water team since Covid went to Guatemala in January to drill a well! The team, led by Rob Merriman, drilled a well in the community of Santa Isabel Retalhuleu, Guatemala. The well is serving 600 people/125 families. We are so thankful that teams are back on and can serve this way. Please pray for this village as they enjoy clean water.
We have another team off to Guatemala on April 29. Please pray for team leader Jean Doucet, and volunteers Matthew Kiss, Joanna Kiss and Rudy Isaac. Our long-time friend Jaime Torres is the in-country host. Speaking of Rudy Isaac: He has been a volunteer with Water Ambassadors for many years. Rudy is looking forward to this trip as, at 85, he will become the oldest volunteer that we have ever had on a team! Thank you, Rudy!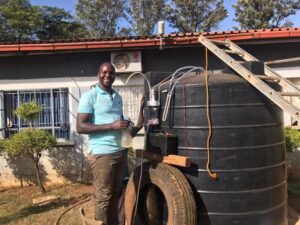 We also had Roland Peters, Sylvia Scott, Jake Peters, Ed Peters install a chlorinator and filters at a medical clinic in Matangwe, Kenya. Roland also took a bleach maker for the village.
Please pray with gratitude for this team and the people of Matangwe, Kenya. Water Ambassadors also sent some new reusable water filters to our friend Job Gamez in Honduras. I attached the video to the email sent out. You can hear the joy and gratitude in his voice. Thank you, Job!
In Colombia. Haliburton friend Ken Bott carried two WaterStep Chlorinators to our partner Daniel and Helen Bravo. They will be installed in indigenous communities in the Choco Department in the NW region.
Also, our Canadian friends and lifelong missionaries, Doctors Philip and Nancy Wood have returned to Bunia in DR Congo for the winter. They will service the numerous chlorinators and bleach makers in use there. Please pray for their safety while in Congo. There are increasing conflicts there right now.
---
Wet Gala Fundraiser
Jesus' first miracle was at a wedding party. Under pressure from his mother, he miraculously changed water into a batch of high-quality wine. In April, we are going to have a fundraiser party with high quality wine to change donations into water.
In the last letter, I told you about Stephanie, Corrie, Elisabeth and Daniele. They were in Guatemala in November with Jaime and me to witness firsthand the water needs in poorer communities. They are organizing a big bash on April 26th. They are hosting a black tie fundraising event for WAC at the El Mocambo in Toronto. There will be a red 'er blue carpet runway, photographers and press. They are calling it… THE WET GALA.
This event will highlight the contrast between abundance and scarcity in a delicate, fashionable and modern way. Both our base of faithful supporters and a new group of donors introduced to WAC by this creative team are invited to an evening dedicated to raising funds and awareness for clean drinking water.
Contaminated drinking water is the biggest cause of death and disease in the world. Yet it is the easiest global problem to fix. But it takes money. We ask you to please pray as led for all aspects of The Wet Gala. This includes Stephanie's planning team, promotion and ticket sales, web site and social media. We are integrating the promotion for THE WET GALA with The UN International Water Day on March 22. We are again asking Canadian landmarks to go blue on that day. We need people to respond to the event and attend. We want an enjoyable fun evening while raising awareness and funds for more water projects.
We want peoples' hearts moved to join our water family and donate time, energy, and money to help give clean water. We have asked our international partners to Pray for The Wet Gala. They are depending on us.
---
Please Pray
When ever you are reminded of the need for clean water please continue to pray for:
Jaime Torres -Guatemala -well drilling and repair
Job Gamez -Honduras -well repair and water filters
Rafael Alvarado -Honduras and Nicaragua -well drilling and repair
Jorge Alvarado-Nicaragua-well drilling and repair
Daniel and Helen Bravo-Colombia -chlorination systems
Dave Bettney-Colombia -water chlorination
Our partners in Venezuela -chlorination systems, water filters and bleach makers
Rafael Afanador-Colombia- chlorination systems
Arthur Prince Ssajjabi-Uganda-drinking water & hand wash stations, well drilling and repair
Miguel Andres Moscoso-Ecuador-chlorination systems.
Philip/Nancy Wood-DR Congo-chlorination systems and water filters.
John Steinmann-Puerto Lempira, Honduras-chlorination systems
Pastor Hamilton K Bleh-Monrovia, Liberia-water filters
Lackson Chipeta in Zambia-well drilling
Reminder to tell your praying friends about The Pray Team.
Please continue to pray for wisdom and energy for our staff: Brian Johns, our CEO, Jeff Merriman our Field Director, Ursula Devolin, Teams and Events Coordinator and Alla Mizers, Office Coordinator.
Please also pray for our Board: Barry Hart (chair), Geri Rodman, Gord Mount (treasurer), Robert Positano, Riley Moynes (vice chair), William Lam and Nick Di Palma.
Thanks for praying for us!
Blessings,

Remember….. 
Contaminated drinking water is the biggest cause of death and disease in the world.  Yet it is the easiest global problem to fix.  Just provide clean water.