Update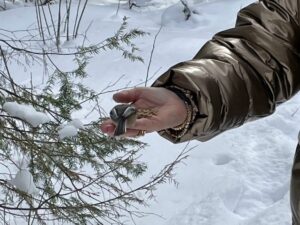 Greetings Pray Team,
I hope you had a restful and meaningful Christmas week.
Here we are in a New Year.
It seems that I always open with a comment on the weather or season.  The seasons are so dominant in Canada (ask any new immigrant!) that it seems fitting to greet you all this way. Living in Canada, you cannot fight winter.  It will beat you. So, you must get on layers of warm everythings and enjoy it.
Winter in Canada is quite beautiful.  Heather and I really enjoy feeding the birds by hand.  It is quite thrilling to have these tiny creatures come and get some seeds. At first, they are fearful.  They soon realize that this giant creature is offering free seed. There are obvious spiritual applications here.
---
MAKING WAVES
Thank you for praying for out Making Waves interviews. They were well received by all.
Thank you for praying for Gabriel and Keisha.  Gabriel has left The Dominican Republic and is now living in Maryland in the US. Here are some wedding pics! Please pray for them. Also pray for Gabriel as he  adjusts to the colder weather in Maryland!
---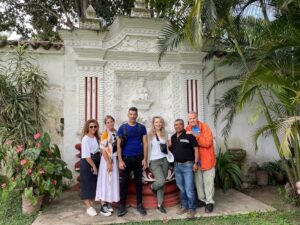 WATER TEAMS
In November, I travelled to Guatemala with (L-R) Elisabeth, Corrie, Daniele, Stephanie, Jaime and me. This group wanted to witness firsthand the conditions in villages still needing clean water. They are going to help promote awareness of Water Ambassadors and help raise funds for water projects. Their strategy will include a major Water Event in April. Please pray for them and their planning to raise funds and awareness for clean water.
---
Please Pray
Ursula Devolin, our Teams and Events Coordinator has asked us to please pray for 'Our teams and fundraising events for 2023.'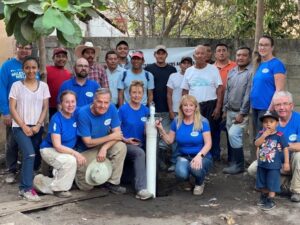 Our first Volunteer Water Team since the start of Covid is travelling to Guatemala in January to drill a well.  Please pray for the team's safety and success as they drill a well for a village.  Please pray for wisdom for team leader Rob Merriman.
Speaking of Merriman's.  Jeff Merriman, our Field and Projects Director has requested 'Many countries where WAC serves experience violence and corruption.  We are prevented from helping people with clean water. Please pray for peace to prevail and for just government.  Pray for leaders to look to the Prince of Peace as their example.
When ever you are reminded of the need for clean water please continue to pray for:
Jaime Torres -Guatemala –well drilling and repair
Job Gamez -Honduras -well repair and water filters
Rafael Alvarado -Honduras and Nicaragua -well drilling and repair
Jorge Alvarado-Nicaragua-well drilling and repair
Daniel and Helen Bravo-Colombia -chlorination systems
Dave Bettney-Colombia -water chlorination        
Our partners in Venezuela -chlorination systems, water filters and bleach makers
Rafael Afanador-Colombia– chlorination systems
Arthur Prince Ssajjabi-Uganda-drinking water & hand wash stations, well drilling and repair 
Miguel Andres Moscoso-Ecuador-chlorination systems.
Philip/Nancy Wood-DR Congo-chlorination systems and water filters. Please pray for their safety as they return to DRC in January. Unrest and violence are on the increase (again!).
John Steinmann-Puerto Lempira, Honduras-chlorination systems  
Pastor Hamilton K Bleh-Monrovia, Liberia-water filters
Pastor Calvin Mochama-Kisii, Kenya Please keep praying for the funding for a large well project.
Lackson Chipeta in Zambia-well drilling
Reminder to tell your praying friends about The Pray Team.
There is information under Get Involved on our website:
Please continue to pray for wisdom and energy for our staff: Brian Johns, our CEO, Jeff Merriman our Field Director, Ursula Devolin, Teams and Events Coordinator and Alla Mizers, Office Coordinator.
Please also pray for our Board: Barry Hart (chair), Geri Rodman, Gord Mount (treasurer), Robert Positano, Riley Moynes (vice chair), William Lam and Nick Di Palma. Our long-time friend George Budd is now board Member Emeritus. We thank him for his many years of service.
William Lam, Board member and team leader, has asked for special prayer that Water Ambassadors will continue to be a light unto the world both in Canada and abroad as we share Jesus' love by giving clean water. (Matthew 25 and 28).  He adds that in these economically tight times, we will have the trust in God to provide for us everything that we need (Matthew 6).
On behalf of the Board, staff, volunteers, in country partners, donors and the hundreds of thousands we have, are and will serve, we wish you and yours a safe happy New Year.
Thanks for praying for us!
Blessings,

Remember….. 
Contaminated drinking water is the biggest cause of death and disease in the world.  Yet it is the easiest global problem to fix.  Just provide clean water.