By Jeff Merriman, Field Director
Hello fellow Water Ambassadors! 
In my role as Field Director, I get to speak with our local partners about their work to deliver clean water access to families. Their updates are a big reason why I do the work I do. They inspire me, give me hope, and remind me that one person like you really can make a difference.
They also remind me that our goal as Water Ambassadors is to continue our work until every human being has access to clean water, sanitation, and hygiene education. Their updates are the best fuel to keep us moving forward in this mission. So, instead of just sharing their updates with the team at Water Ambassadors Headquarters, I've decided to share them with you by spotlighting a local team or project on this blog every month. 
This month I want to highlight our friend Arthur and his local team at Generation with a Mission (GWAM) located in Uganda. Here's his story: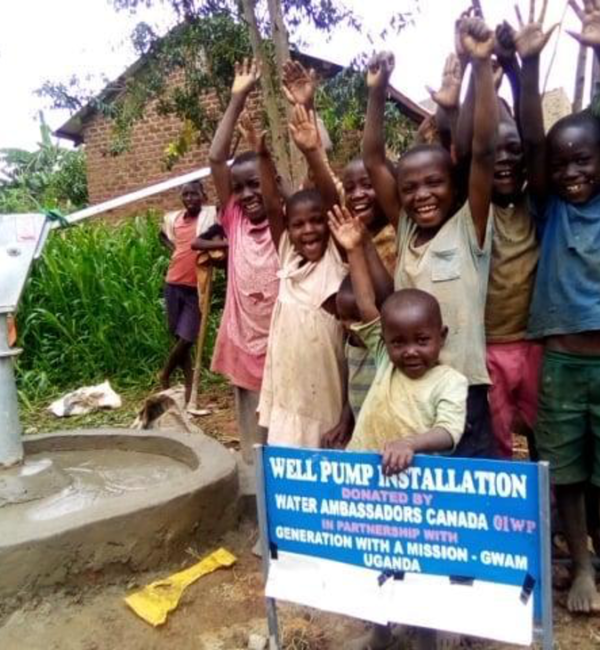 "I was born in southern Uganda lwengo district in 1972. My parents were peasant farmers who belonged to the Anglican Church. Sadly, my Mother passed away when I was just six years old.
I grew up during a time of political instability and civil war, including the reign of dictator Idi Amin. Shortly after the wars, the community was invaded by HIV/AIDS which claimed many lives and left many orphans in its wake. Many have lived with the disease from birth and have led their families since they were children.
These challenges have left our society vulnerable, illiterate, and unable to access social services like education. Members of the community survive on subsistence farming and are dependent on seasonal rainfall. Our community lacked natural water sources and depended on dirty stagnant contaminated water ponds shared by people and animals. The ponds dry up during long droughts. Our community suffered from infections and skin diseases due to dirty water. Typhoid, dysentery, and worms also claimed many lives. In many communities, this is still the reality today.
I survived and completed my primary education, then my adult education, obtaining the Uganda Advanced Certificate of Education. I trained for three years to receive a certificate in general agriculture before attending a Presbyterian Bible College and discipleship training with YAM Uganda. Since 1994, I have been a pastor. In 1996, my late father donated land to me to construct a Bible College. Our progress was slowed by a lack of resources to construct a permanent church.
Today, my wife Rose and I have a 13-year-old son named Enock, I am the founding pastor of Divine Love Church, and Executive Director of Generation with a Mission (GWAM). I formed GWAM to address the water problems that led to so many deaths in my community. Today, we are licensed to operate in the districts of central Uganda.
Our only current partner in helping our local communities access safe water is Water Ambassadors Canada (WAC). We are so grateful for this partnership. WAC provides our communities with water filters, drinking water filtering stations, and construction and repair of bore holes and shallow wells.
This support recently allowed us to finish a project in Katovu Community. The local wells were broken for 16 years, forcing children to draw water from a nearby pond and risk drowning. Over 2,000 people will now benefit from these repairs.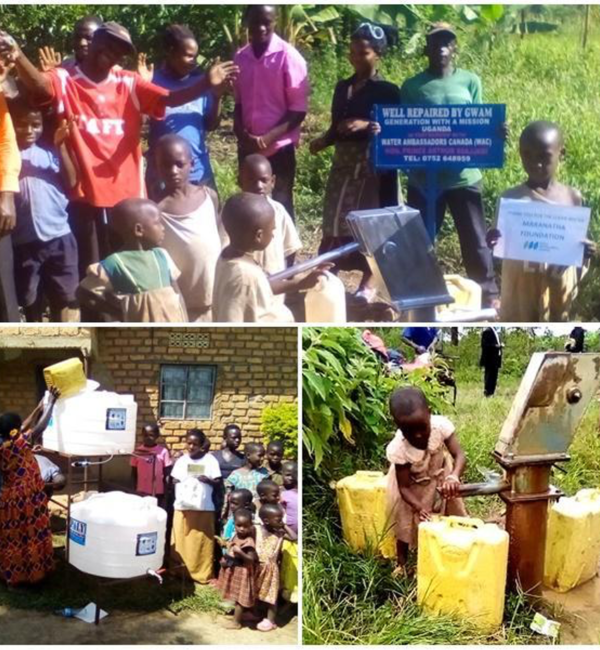 However, the need continues to be greater than we can currently meet and we require more support. We need more help to repair an existing borehole and drill a new bore hole near another dangerous pond that has killed eight children over the last four years. We also need support to make sure the wells are maintained and no longer break down for years at a time.
Despite these continued challenges, the generous support, special attention, and love that supporters of Water Ambassadors give to our community is making life safer for children and their families in Uganda. We are very thankful for your support and proud to partner with you as we work to deliver clean water access to even more people."
People like Arthur, local teams like Generation with a Mission, and Water Ambassadors like you are making a real difference in the lives of Ugandans every single day. To help continue this momentum, share Arthur's story with your friends and family and consider making a special donation today.