Rebuilding After Covid
Greetings Pray Team,
I hope you are all well.
It seems that I always start off describing the weather here in Haliburton, Ontario. Even though spring is slow this year and it is rainy and chilly today, I will not start with a weather report.
Like many businesses and charities, getting through the pandemic was not easy! Besides the obvious health concerns and shutdowns, we had to cancel all water teams, training camps, fundraising events and get by on reduced donations.
We are thankful for CEO Brian Johns as he steered us through these times. Marin Luther and/or St Augustine said, "Pray in the morning like it all depends on God and work all day like it all depends on you." Even though we all know Proverbs 3: 4-6 the last few years have been challenging.
We are thankful that we did not have to lay off any staff. We reduced office expenses by moving to a smaller office in the same location. We moved all our training equipment, trailer and stored equipment out of Toronto. Field Director, Jeff Merriman negotiated space in a building near his home.
---
Water Teams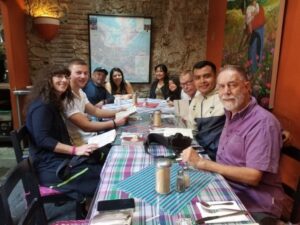 Volunteer Water Ambassadors teams are slowly returning. We have another team returning from Guatemala this weekend. Thank you for praying for team leader Jean Doucet (in purple shirt), and mother and son Joanna Kiss and son Matthew. Rudy Isaac at 85, becomes our oldest water team tripper ever. Thank you, Rudy. Our long-time friend Jaime Torres is hosting.
It is so nice to be asking you to pray for teams. We have not had regular teams since Mr. Covid visited. We have another water team going to Honduras June 30-July 7 to repair wells. Well repair is very efficient as the expensive part of the project (drilling and developing the well) is done. Well repair teams repair the mechanical pump to restore clean water to the village. Usually, a well can be restored in half a day. Team leader veteran and board member William Lam is leading.
Please pray for team members Christian Lam (William's son) and the Wong family. Mike and Lynne Wong are taking Kaitlyn and Connor to help give clean water. Thank you, team! William is asking for prayer now for the health of the team leading up to and including the actual dates. He also asks you to pray that the entire team we will choose to progressively love and trust Jesus more by making intentional times to speak and hear Him daily. Finally, William asks you to pray that God will provide all the funds needed for our whole team.
Team fundraising: Virtually all volunteer team members shudder to ask family and friends for funding to help pay for a water team. At Water Ambassadors we like team members to ask for assistance as it help spreads the word about what we do. When a team member returns, they thank their donors with pictures, stories and small gifts. This helps create awareness of what we do.
As teams become active again, please pray for our team members to feel confident to ask friends and family to help sponsor their participation. Also pray for generous spirits to those they ask.
---
Fundraising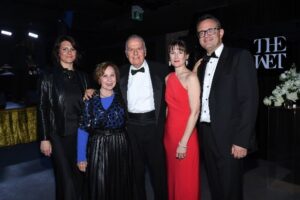 Well it Happened! On April 26, hundreds of people, put on their fancy clothes and came to the El Mocambo in Toronto. They came to eat, dance, donate and to learn about clean water. We want to get the name Water Ambassadors Canada into social media. Many of the people at the Wet Gala are on social media. Please pray with thanks for Stephanie and Brian and their crews with thanks for a really good first Wet Gala.
On June 22, Water Ambassadors is hosting our annual Haliburton Golf Day. Please pray for good weather, good participation and good sponsorship. This year's theme is based on the TV show The Price is Right but with a water theme.
---
Please Pray
When ever you are reminded of the need for clean water please continue to pray for:
Jaime Torres -Guatemala -well drilling and repair
Job Gamez -Honduras -well repair and water filters
Rafael Alvarado -Honduras and Nicaragua -well drilling and repair
Jorge Alvarado-Nicaragua-well drilling and repair
Daniel and Helen Bravo-Colombia -chlorination systems
Dave Bettney-Colombia -water chlorination
Our partners in Venezuela -chlorination systems, water filters and bleach makers
Rafael Afanador-Colombia- chlorination systems
Arthur Prince Ssajjabi-Uganda-drinking water & hand wash stations, well drilling and repair
Miguel Andres Moscoso-Ecuador-chlorination systems.
Philip/Nancy Wood-DR Congo-chlorination systems and water filters.
John Steinmann-Puerto Lempira, Honduras-chlorination systems
Pastor Hamilton K Bleh-Monrovia, Liberia-water filters
Lackson Chipeta in Zambia-well drilling
Reminder to tell your praying friends about The Pray Team.
Please continue to pray for wisdom and energy for our staff: Brian Johns, our CEO, Jeff Merriman our Field Director, Ursula Devolin, Teams and Events Coordinator and Alla Mizers, Office Coordinator.
Please also pray for our Board: Barry Hart (chair), Geri Rodman, Gord Mount (treasurer), Robert Positano, Riley Moynes (vice chair), William Lam and Nick Di Palma.
Thanks for praying for us!
Blessings,

Remember….. 
Contaminated drinking water is the biggest cause of death and disease in the world.  Yet it is the easiest global problem to fix.  Just provide clean water.